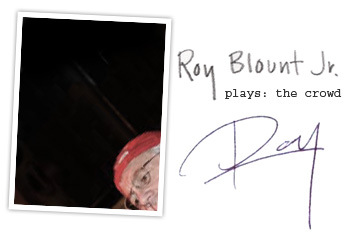 If there is one thing that Roy Blount Jr. (pronounced Blunt) prides himself on, his modesty aside, it is this: that he has done more different things, for money, than any other humorist-novelist-journalist-dramatist-lyricist- lecturer-reviewer-performer-versifier-cruciverbalist-sportswriter- screenwriter-anthologist-columnist-philologist of sorts (with due emphasis on the inclusive "of sorts") that he can think of off hand.
The first of his books was named one of the ten best sports books ever by Jonathan Yardley of The Washington Post. Playboy said he was "known to the critics as our next Mark Twain." His one-man show at the American Place Theatre was described by The New Yorker as "the most humorous and engaging fifty minutes in town"—which, when you stop to think how many fifty minutes there are in New York at any given time, is something.
A regular panelist on NPR's Wait Wait Don't Tell Me, he has appeared on A Prairie Home Companion frequently and on CBS Morning Show, Tonight Show, The Late Show with David Letterman, Good Morning America, Today Show, Larry King Live, Politically Incorrect and in a series of TV spots for the NBA starring Bill Murray, which he helped Murray create.
A contributing editor of The Atlantic Monthly, he writes a regular column for The Oxford American (among others), and his essays, articles, stories, verses and even drawings have appeared in 126 different periodicals.
He wrote the screenplay of Larger Than Life, starring Bill Murray, the lyrics of a song Andie MacDowell sings in Michael and an HBO fairy tale, "The Frog Princess." Of his two one-act plays produced at the Actors Theatre of Louisville, one became part of an Off-Broadway review. In films, TV and radio, he has portrayed everything from an outraged grocery shopper to Thoreau.
Roy splits his time between western Massachusetts and Manhattan. He's the father of social worker daughter Ennis and bartender/writer/actor son Kirven (with whom he wrote and appeared in a five-minute film on extreme sports for ESPN), and is a proud grandfather of two.