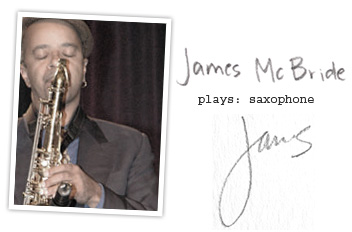 James McBride is an award-winning writer and composer. His critically acclaimed memoir, The Color of Water, won the 1997 Anisfield-Wolf Book Award for Literary Excellence, was an ALA Notable Book of the Year, and spent more than two years on The New York Times bestseller list. Chosen by the New York Public Library as one of the 25 books of 1996 to remember, The Color of Water has sold more than 1.3 million copies in the United States alone and is now required reading at numerous colleges and high schools across the country. It has also been published in 16 languages and more than 20 countries. McBride's new book, Miracle at St. Anna, was one of 2002's most anticipated releases and marks the author's debut as a novelist.
McBride is a former staff writer for The Washington Post, People Magazine and Boston Globe. His work has also appeared in Essence, Rolling Stone and The New York Times. Aside from his literary honors, McBride is also the recipient of several awards for his work as a composer in musical theater, including the 1996 American Arts and Letters Richard Rodgers Award, the 1996 ASCAP Richard Rodgers Horizons Award and the American Music Festival's 1993 Stephen Sondheim Award. He has written the score for several musicals, including the highly acclaimed, award-winning show Bobos. He is an accomplished saxophonist who has toured with renowned jazz singers and musicians.
McBride has written songs (music and lyrics) for Anita Baker, Grover Washington, Jr., Gary Burton, Silver Burdett Textbooks, and for the PBS television character "Barney." He is a graduate of New York City public schools. He studied composition at The Oberlin Conservatory of Music in Ohio and received a Masters in Journalism from Columbia University in New York at age 22. He also holds an Honorary Doctorate of Human Letters from Whitman College. He lives in Pennsylvania.