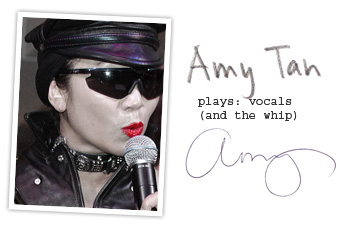 One of the most highly acclaimed writers of our time, Amy Tan is author of The Joy Luck Club, a beloved international best-selling novel which explores the relationships of Chinese women and their Chinese-American daughters. She is also author of The Kitchen God's Wife, The Hundred Secret Senses, The Bonesetter's Daughter, the non-fiction The Opposite of Fate and two children's books. Her latest novel, published in the fall of 2005, is Saving Fish From Drowning.
In 1985, Tan attended a writing workshop for which she wrote the story "Rules of the Game," which later became part of her first work of fiction, The Joy Luck Club. Published by G. P. Putnam's Sons in 1989, The Joy Luck Club became the longest running title on The New York Times hardcover best-seller list for that year. It also was nominated and then selected as a finalist for the National Book Award and the National Book Critics Circle Award. It received the Bay Area Book Reviewers Award for Fiction and the Commonwealth Club Gold Award. The book has been translated into 25 languages including Chinese, and has been made into a major motion picture.
Tan's second novel, The Kitchen God's Wife, was published in 1991, and was soon the number one bestseller on The New York Times hardcover list. It also appeared on the Canadian, British, Australian, Danish, Spanish, Norwegian and German bestseller lists.
The Hundred Secret Senses was published in October, 1995 and immediately appeared on The New York Times hardcover best-seller list. In a starred review, Publishers Weekly stated, "Again grounding her novel in family and the workings of fate, Tan spins the tale of two sisters, two cultures and several acts of betrayal…no one will deny the pleasure of Tan's seductive prose and the skill with which she unfolds the many-layered narrative."
Tan's stories have appeared in The Atlantic, Grand Street, Lear's, McCall's and other magazines, as well as numerous anthologies. Her essay "Mother Tongue" was published in The Threepenny Review and was selected for the 1991 edition of Best American Essays. Her books are assigned reading in many high schools and colleges. The Joy Luck Club was selected for the literature portion of the 1992-93 Academic Decathlon, a national scholastic competition for high school students.
Amy Tan has written two children's books, The Moon Lady (1992) and The Chinese Siamese Cat (1994). The latter is now a PBS children's television series Sagwa, the Chinese Siamese Cat, and is also part of a symphony program of words and music produced and conducted by George Daugherty. Her film work includes a screenplay of The Joy Luck Club, which she co-wrote with Ron Bass (My Best Friend's Wedding, Snow Falling on Cedars).