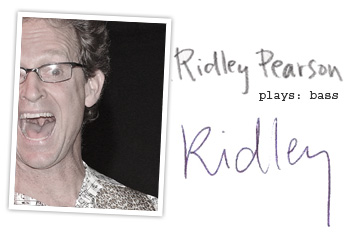 Whether it's writing frighteningly real suspense fiction, playing bass guitar with the Remainders, or the inherent joys of new fatherhood, Ridley Pearson has mastered the art of keeping a lot of people up all night. With twelve highly praised thrillers under his belt (his thirteenth, Middle of Nowhere, is due out this summer), best-selling author Pearson has earned a reputation for writing novels that grip the imagination, emphasize high-tech crime and dazzling forensic detail and, all too often, imitate life.
His classic 1988 novel, Undercurrents, helped a prosecuting attorney from Washington state solve a real-life homicide by referring to research methods used in the book. The attorney—who happened to be reading Undercurrents at the time—enlisted the aid of an oceanographer mentioned in the book's acknowledgment page. The oceanographer identified a tidal flow and "window of time" essential to the case and, serving as an expert witness, helped convict the victim's husband of murder.
The topic of his 1995 novel, Chain of Evidence, which involved the existence of a crime gene, was the focus of a genetics conference later that year that erupted in controversy, making national news. Beyond Recognition (1997), tackled the violent mystery of high-tech arson, and at least one death occurred subsequently just as Pearson described it in the book.
In 1991, Pearson became the first American to be awarded the Raymond Chandler Fulbright at Oxford University, where he researched and outlined both The Angel Maker (1993) and No Witnesses (1994). The fellowship recognizes published writers with "emerging reputations," and helped him hone his natural fascination with forensic detection and focus his active imagination.
Nearly all of Pearson's novels have been optioned for film, including one of his first three Lou Boldt/Daphne Matthews thrillers (No Witnesses) which is currently under development with Jamie Lee Curtis slated to star as Seattle police psychologist Matthews.
Pearson's first love, music, has run the gamut from writing original folk rock music for a touring bar band to composing the orchestral score to an internationally award-winning documentary film, Cattle Drive. Pearson also has a long lost album (Big Lost Rainbow 1973) which has been reissued on CD.
Raised in Riverside, Connecticut, Pearson lives in St. Louis, MO with his wife, Marcelle, and daughters, Paige and Storey.