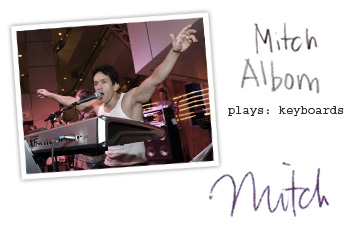 Mitch Albom is the author of nine books, including the newest, For One More Day, published 9/26/06. His first novel, The Five People You Meet in Heaven (9/03), is the most successful U.S. hardback first novel ever and has to date sold over 8 million copies worldwide.
Tuesdays With Morrie (1997), his chronicle of time spent with a beloved but dying college professor, spent four years on The New York Times bestsellers list and is now the most successful memoir ever published. Both books were eventually turned into celebrated TV films. The critically acclaimed The Five People You Meet in Heaven aired on ABC in winter, 2004. Oprah Winfrey produced the film version of "Tuesdays With Morrie" in December 1999; starring Jack Lemmon and Hank Azaria. The film garnered four Emmy® awards, including best TV film, director, actor and supporting actor.
An award-winning journalist and radio host, Albom wrote the screenplay for The Five People You Meet in Heaven, and is an established playwright, having authored numerous pieces for the theater, including the off-Broadway version of Tuesdays With Morrie (co-written with Jeffrey Hatcher) which has seen more than 40 productions nationwide, and several recent comedies which have been produced and performed in venues across the country.
Albom has founded three charities in the metropolitan Detroit area: "The Dream Fund," established in 1989, allows disadvantaged children to become involved with the arts.
"A Time To Help," founded in 1998, brings volunteers together once a month to tackle various projects in Detroit, including staffing shelters, building homes with Habitat for Humanity, and operating meals on wheels programs for the elderly. "S.A.Y Detroit," Albom's most recent effort, is an umbrella program to fund shelters and care for the homeless in his city. He also raises money for literacy projects through a variety of means including his performances with the Rock Bottom Remainders. Albom serves on the boards of various charities and, in 1999, was named National Hospice Organization's Man of the Year.